Oposición legislativa y patronazgo político. Gasto en empleo público de los estados en México, 2001-2012
Palabras clave:
patronazgo político, competencia política, negociación Ejecutivo-Legislativo, política subnacional, México
Resumen
En el artículo se argumenta que el patronazgo político depende de la fuerza de negociación de la oposición en el Congreso. Esta hipótesis se pone a prueba a través del análisis del gasto público en salarios de los gobiernos estatales en México. Se combina información estadística sobre el salario del sector público por habitante para el periodo 2001-2012, con datos de la encuesta a expertos en política estatal en México, que considera la fortaleza e influencia de la oposición en las legislaturas estatales. El análisis especifica modelos jerárquicos lineales, y muestra que el nivel de patronazgo será mayor cuanto más limitado esté el Poder Ejecutivo por la oposición legislativa. Estos hallazgos contribuyen con una hipótesis original a los estudios acerca del patronazgo y de la relación entre la oposición en el Congreso y el Ejecutivo.
Citas
Alston, Lee J. y Bernardo Mueller. 2006. Pork for policy: executive and legislative exchange in Brazil. Journal of Law, Economics and Organization 22 (1): 87-114.
Ames, Barry. 1994. The reverse coattails effect, local party organization in the 1989 Brazilian presidential election. American Political Science Review 88 (1): 95-111.
Amieva-Huerta, Juan. 1997. Mexico. En Fiscal federalism in theory and practice, editado por Teresa Ter-Minassian, 570-597. Washington: International Monetary Fund.
Arretche, Marta y Jonathan Rodden. 2004. Política distributiva na federação: estratégias eleitorais, barganhas legislativas e coalizões de governo. Dados 47 (3): 549-575.
Bearfield, Domonic A. 2009. What is patronage? A critical reexamination. Public Administration Review 69 (1): 64–76.
Blondel, Jean. 2002. Party government, patronage, and party decline in western Europe. En Political parties: old concepts and new challenges, editado por Richard Gunther, José Ramón Montero y Juan J. Linz, 233-256. Oxford: Oxford University Press.
Bowers, Jake y Katherine W. Drake. 2005. EDA for HLM: visualization when probabilistic inference fails. Political Analysis 13 (4): 301-326.
Casar, María Amparo. 2013. Quince años de gobiernos sin mayoría en el Congreso mexicano. Política y Gobierno 20 (2): 219-263.
Casar, María Amparo. 2008. Los gobiernos sin mayoría en México: 1997-2006. Política y Gobierno 15 (2): 221-270.
CIDAC. 2014. Base de datos electorales. http://www.cidac.org/esp/Datos_Electorales.php (20 de marzo de 2014).
Cleary, Matthew R. y Susan Stokes. 2009. Democracy and the culture of skepticism: the politics of trust in Argentina and Mexico. Nueva York: Russell Sage Foundation.
Cox, Gary W. y Mathew D. McCubbins. 2001. The institutional determinants of economic policy outcomes. En Presidents, parliaments and policy, editado por Stephen Haggard y Mathew D. McCubbins, 21-63. Nueva York: Cambridge University Press.
Cox, Gary y Scott Morgenstern. 2001. Latin America's reactive assemblies and proactive presidents. Comparative Politics 33 (2): 171-190.
Di Mascio, Fabrizio. 2012. Changing political parties, persistent patronage: the Italian case in comparative perspective. Comparative European Politics 10 (4): 377–398.
Díaz-Cayeros, Alberto. 2006. Federalism, fiscal authority, and centralization in Latin America. Cambridge: Cambridge University Press.
Foweraker, Joe y Ann Craig. 1990. Popular movements and political change in Mexico. Boulder: Lynne Rienner Publishers.
Geddes, Barbara. 1994. Politician's dilemma: building state capacity in Latin America. Berkeley: University of California Press.
Gervasoni, Carlos. 2010. A rentier theory of subnational regimes: fiscal federalism, democracy, and authoritarianism in the Argentine provinces. World Politics 62 (2): 302–340.
Golden, Miriam y Brian Min. 2013. Distributive politics around the world. Annual Review of Political Science 16: 73-99.
Gordin, Jorge P. 2002. The political and partisan determinants of patronage in Latin America 1960-1994: a comparative perspective. European Journal of Political Research 41 (4): 513-549.
Grzymala-Busse, Anna. 2008. Beyond clientelism. Incumbent state capture and state formation. Comparative Political Studies 41 (4-5): 638-673.
Hernández Trillo, Fausto, Alberto Díaz-Cayeros y Rafael Gamboa González. 2002. Determinants and consequences of bailing out states in Mexico. Eastern Economic Journal 28 (3): 365-380.
Hicken, Allen. 2011. Clientelism. Annual Review of Political Science 14: 289–310.
Hopkin, Jonathan. 2001. A 'southern model' of electoral mobilisation? Clientelism and electoral politics in Spain. West European Politics 24 (1): 115–136.
INEGI. 2016. Banco de información INEGI. http://www.inegi.org.mx/biinegi/
Jiménez Badillo, Margarita. 2007. Gobernando sin mayorías parlamentarias en América Latina. Opinao Pública. Campinas 13 (1): 148-184.
Kellam, Marisa. 2015. Parties for hire: how particularistic parties influence presidents' governing strategies. Party Politics 21 (4): 515-526.
Kitschelt Herbert y Steven I. Wilkinson (editores). 2007. Patrons, clients, and policies: patterns of democratic accountability and political competition. Cambridge: Cambridge University Press.
Kopecky, Petr. 2011. Political competition and party patronage: public appointments in Ghana and South Africa. Political Studies 59 (3): 713-732.
Kopecky, Petr y Maria Spirova. 2011. 'Jobs for the boys'? Patterns of party patronage in post-communist Europe. West European Politics 34 (5): 897-921.
Kopecky, Petr y Gerardo Scherlis. 2008. Party patronage in contemporary Europe. European Review 16(3): 355–371.
Loza, Nicolás e Irma Méndez (coordinadores). 2013. Evaluación de expertos en política estatal en México, 2002-2012 (EEPEMEX). México: FLACSO/PNUD/Consejo Nacional de Ciencia y Tecnología.
Loza, Nicolás e Irma Méndez (coordinadores). 2012. Base de datos calidad de las elecciones. México: FLACSO/PNUD.
Lujambio, Alonso. 2002. Gobiernos divididos en once estados de la federación mexicana, 1989–1997. En Gobernar sin mayoría, México, 1867-1967, coordinado por María Amparo Casar e Ignacio Marván, 319-349. México: Taurus-Centro de Investigación y Docencia Económicas.
Mejía-Acosta, Andrés. 2009. Informal coalitions and policy-making in Latin America. Ecuador in comparative perspective. Londres: Routledge.
Morgenstern, Scott, Juan Negri y Aníbal Pérez Linán. 2009. La oposición parlamentaria en regímenes presidenciales. El caso latinoamericano. En Qué pasa con la representación en América Latina?, compilado por Luisa Béjar, 13-50. México: Porrúa.
O'Dwyer, Conor. 2006. Runaway State-building: patronage politics and democratic development. Baltimore: The Johns Hopkins University Press.
Piattoni, Simona (editor). 2001. Clientelism, interests, and democratic representation: the European experience in historical and comparative perspective. Cambridge: Cambridge University Press.
Raudenbush, Stephen W. y Anthony S. Bryk. 2002. Hierarchical linear models. Thousand Oaks: Sage.
Remmer, Karen L. 2007. The political economy of patronage: expenditure patterns in the Argentine provinces, 1983-2003. Journal of Politics 69 (2): 363-377.
Remmer, Karen L. y Erik Wibbels. 2000. The subnational politics of economic adjustment: provincial politics and fiscal performance in Argentina. Comparative Political Studies 33 (4): 419–451.
Sanginés, Mario y Luciano Strazza. 2016. Profesionalización de la función pública en los estados de México. Washington: Banco Interamericano de Desarrollo.
Schedler, Andreas. 2013. The politics of uncertainty. Sustaining and subverting electoral authoritarianism. Oxford: Oxford University Press.
Shefter, Martin. 1994. Political parties and the state: the American historical experience. Princeton: Princeton University Press.
Shefter, Martin. 1977. Party and patronage: Germany, England and Italy. Politics and Society 7 (4): 403–452.
Stokes, Susan, Marcelo Nazareno, Thad Dunning y Valeria Brusco. 2013. Brokers voters and clientelism. The puzzle of distributive politics. Cambridge: Cambridge University Press.
Tsebelis, George. 1995. Decision making in political systems: veto players in presidentialism, parliamentarism, multicameralism and multipartism. British Journal of Political Science 25 (3): 289-325.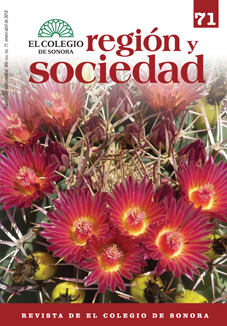 Descargas
Cómo citar
Armesto, A., & C. Olmeda, J. (2018). Oposición legislativa y patronazgo político. Gasto en empleo público de los estados en México, 2001-2012. región Y Sociedad, 30(71). https://doi.org/10.22198/rys.2018.71.a773
Sección
Artículos de investigación
Licencia
Política de acceso abierto
Los autores que publican en región y sociedad acceptan las siguientes condiciones:
De acuerdo con las leyes de derechos de autor, región y sociedad reconoce y respeta los derechos morales de los autores, así como la titularidad de los derechos de propiedad, los cuales serán transferidos a la revista para difundir los artículos en acceso abierto. región y sociedad no cobra a los autores por enviar y procesar artículos para su publicación.
Todos los textos publicados por región y sociedad —sin excepción— se distribuyen bajo una licencia Creative Commons 4.0 Reconocimiento-NoComercial 4.0 Internacional (CC BY-NC 4.0), que permite a terceros utilizar la publicación siempre que mencionen la autoría de las obras. y la primera publicación en esta revista.
Los autores pueden celebrar acuerdos contractuales independientes y adicionales para la distribución no exclusiva de la versión del artículo publicado en región y sociedad (por ejemplo, incluirlo en un repositorio institucional o publicarlo en un libro) siempre que indique claramente que el trabajo se publicó por primera vez en región y sociedad.
Por todo lo anterior, el (los) autor (es) deberán enviar la Carta de cesión de derechos de propiedad de la primera publicación debidamente cumplimentada y firmada por el (los) autor (es). Esta carta se puede enviar por correo electrónico en formato PDF a: region@colson.edu.mx