El trabajo flexible y la poca inversión en la educación de las mujeres en la frontera México-Estados Unidos
Palabras clave:
trabajo flexible, inversión, educación, mujeres, frontera
Resumen
Durante los últimos 40 años, la industria fronteriza ha abierto oportunidades de empleo para las mujeres en la comunidad de Nogales, Arizona. La expansión del libre comercio, a través de los acuerdos entre México y Estados Unidos, ha agravado la inestabilidad económica mediante el uso flexible de la mano de obra, una práctica que cada vez da más cabida a las mujeres. En este artículo se presentan ejemplos de algunas dedicadas a la venta al por menor, y que además trabajan en maquiladoras. Los casos ayudan a destacar la relación entre el trabajo flexible, la reproducción de la unidad doméstica y la educación. Se argumenta que el aumento de oferta de empleo flexible complementa los mandatos socioculturales que hacen hincapié en el rol reproductivo de la mujer. Por lo tanto, la combinación de dichas ofertas y los preceptos culturales se oponen a la adquisición de educación, que proporcionaría mayor desarrollo del capital humano y estabilidad económica en el hogar.
Descargas
Los datos de descargas todavía no están disponibles.
Citas
Arreola, Daniel D., y James R. Curtis. 1993. The Mexican Border Cities: Landscape Anatomy and Place Personality. Tucson: University of Arizona Press.
Barndt, Deborah. 1999. Whose "Choice"? "Flexible" Women Workers in the Tomato Food Chain. En Women Working the NAFTA Food Chain: Women, Food and Globalization, editado por ídem., 61–80. Toronto: Second Story Press.
Bean, Frank D., Jorge Chapa, Ruth Berg y Katheryn A. Sowards. 1994. Educational and Sociodemographic Incorporation among Hispanic Immigrants to the United States. En Immigration and Ethnicity, editado por Barry Edmonston y Jeffrey S. Passel, 73–100. Washington: Urban Institute Press.
Becker, Gary S. 1993. Human Capital. Chicago: University of Chicago Press.
Benavides, Fernando G., y George L. Delclos. 2005. Flexible Employment and Health Inequalities. Journal of Epidemiology & Community Health 59 (9): 719–720.
Boje, Thomas P. 1996. Gender, Work, Time and Flexible Employment:The Case of Denmark. Time & Society 5 (3): 341–361.
Chacón, María. 1982. Chicanas in Postsecondary Education. Stanford: Center for Research on Women, Stanford University.
Crompton, Rosemary. 2002. Employment, Flexible Working and the Family. British Journal of Sociology 53 (4): 537–558.
De Anda, Roberto M. 2000. Mexican–origin Women's Employment Instability. Sociological Perspectives 43 (3): 421 –37.
Flores, Lisa Y, Angela Byars y Danielle M. Torres. 2002. Expanding Career Options and Optimizing Abilities: The Case of Laura. The Career Development Quarterly 60: 311–16.
Flores Niemann, Yolanda, Andrea Romero y Consuelo Arbona. 2000. Effects of Cultural Orientation on the Perception of Conflict Between Relationship and Education Goals for Mexican–American College Students. Hispanic Journal of Behavioral Sciences 22 (1): 46–63.
Gándara, Patricia. 1995. Over The Ivy Walls: The Educational Mobility of Low–income Chicanos. Nueva York: State University of New York Press.
––––––––––. 1982. Passing through the Eye of the Needle: High–achieving Chicanas. Hispanic Journal of Behavioral Sciences 4 (2): 167–179.
Gilbert, Alan. 1994.Third World Cities: Poverty, Employment, Gender Roles and the Environment during a Time of Restructuring. Urban Studies 31 (4–5): 605–633.
Gutmann, Mathew C. 1996. The Meanings of Macho: Being a Man in México City Berkeley, Los Angeles, Londres: University of California Press.
Hakenberg, Robert, Arthur D. Murphy y Henry A. Selby 1984. The Urban Household in Dependent Development. En Households: Comparative and Historical Studies of the Domestic Group, editado por Robert McC. Netting, Richard R. Wilk y Eric J. Arnould, 187–216. Berkeley, Los Ángeles, Londres: University of California Press.
Hondagneu–Sotelo, Pierrette y Ernestine Avila. 1997. I'm Here, but I'm There': the Meanings of Latina Transitional Motherhood. Gender & Society 11 (5): 548–560.
Klerck, Gilton. 2005. Industrial Restructuring, Labour Market Segmentation and the Temporary Employment Industry in Namibia. South African Review of Sociology 36 (2): 269–294.
Kopinak, Kathryn. 1996. Desert Capitalism:Maquiladoras in North Americas Western Industrial Corridor.Tucson: University of Arizona Press.
Kritzinger, Andrienetta, Stephanie Barrientos y Hester Rossouw. 2004. Global Production and Flexible Employment in South African Horticulture: Experiences of Contract Workers in Fruit Exports. Sociologia Ruralis 44 (1): 17–39.
Lane, Christel. 1989. From 'Welfare Capitalism' to 'Market Capitalism': A Comparative Review of Trends Towards Employment Flexibility in Three Major European Societies. Sociology 23 (4): 583–610.
Natti, Jouko. 1990. Flexibility, Segmentation and Use of Labour in Finnish Retail Trade. Acta Sociológica 33 (4): 373–382.
Netting, Robert McC, Richard R.Wilk y Eric J. Arnould. 1984.Households: Comparative and Historical Studies of the Domestic Group. Berkeley: University of California Press.
O'Leary, Anna Ochoa. 2006. Social Exchange Practices Among Mexican–origin Women in Nogales, Arizona: Prospects for Education Acquisition. Aztlán:A Journal of Chicano Studies 31 (1): 63–94.
––––––––––, Norma González y Gloria Ciria Valdéz–Gardea. 2008. Latinas' Practices of Emergence: Between Cultural Narratives and Globalization on the U.S.–México Border. Journal of Latinos in Education 7 (3): 206–226.
Perrons, Diane. 2000. Flexible Working and Equal Opportunities in the United Kingdom: A Case Study from Retail. Environment & Planning 32 (10): 1719–1735.
Quintero–Ramírez, Cirila. 2002. The North American Free Trade Agreement and Women: The Canadian and Mexican Experiences. International Feminist Journal of Politics 4 (2): 240–59.
Raley, R. Kelly.T. Elizabeth Durden y Elizabeth Wildsmith. 2004. Understanding Mexican–American Marriage Patterns Using a Life–course Approach. Social Science Quarterly 85 (4): 872–90.
Russell, Bernard H. 1994. Research Methods in Anthropology. Thousand Oaks, California: Sage.
Segura, Denise A. 1994. Working at Motherhood: Chicana and Mexican Immigrant Mothers and Employment. En Mothering: Ideology, Experience and Agency, editado por Evelyn Nakano Glenn, Grace Chang y Linda Rennie Forcey, 211–233. Nueva York y Londres: Routledge.
Seifert, Ana María y Karen Messing. 2006. Cleaning up After Globalization: An Ergonomic Analysis of Work Activity of Hotel Cleaners. Antipode 38 (3): 557–578.
Sklair, Leslie. 1993. Assembling for Development: The Maquila Industry in México and the United States. San Diego: Center for U.S.–Mexican Studies, University of California.
Stier, Haya y Marta Tienda. 1992. Family, Work and Women: The Labor Supply of Hispanic Immigrant Wives. International Migration Review 26 (4): 1291–1313.
Tienda, Marta, Katherine M. Donato y Héctor Cordero–Guzmán. 1992. Schooling, Color, and the Labor Force Activity of Women. Social Forces 71 (2): 365–95.
Valdéz–Gardea, Gloria Ciria. 2008. Revisitando la antropología de la migración; frontera, actores y trabajo de campo. En Achicando futuros: actores y lugares de la migración, coordinado por ídem., 459–474. Hermosillo: El Colegio de Sonora.
–––––––––– y Helen Balslev–Claussen. 2007. Migración y trasnacionalismo. Experiencias de inmigrantes en el transporte público de San Diego, California, 2004. región y sociedad XIX (número especial): 199–218.
Vásquez, Melba J.T. 1982. Confronting Barriers to the Participation of Mexican American Women in Higher Education. Journal of Behavioral Sciences 4 (2): 147–165.
Vigil, Diego. 1988. The Nexus of Class, Culture and Gender in the Education of Mexican American Females. En The Broken Web: The Educational Experience of Hispanic American Women, editado por Teresa McKenna y Flora Ida Ortiz, 70–106. Berkeley: The Tomas Rivera Center and Floricanto Press.
Weintraub, Sidney 1996. The Meaning of NAFTA seen from the United States. En Regionalization in the World Economy: NAFTA, the Amercias and Asia Pacific, de Van R. Whiting, 65–87. San Diego: University of California.
Wolbers, Maarten HJ. 2007. Employment Insecurity at Labor Market Entry and its Impact on Parental Home Leaving and Family Formation. International Journal of Comparative Sociology 48 (6): 481–507.
Young, Gay 1992. Chicana College Students on the Texas–Mexico Border: Tradition and Transformation. Hispanic Journal of Behavioral Sciences 14 (3): 341–352.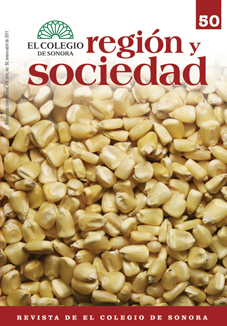 Descargas
Cómo citar
Valdéz Gardea, G. C., Ochoa O'Leary, A., & González, N. (2011). El trabajo flexible y la poca inversión en la educación de las mujeres en la frontera México-Estados Unidos. región y sociedad, 23(50). https://doi.org/10.22198/rys.2011.50.a23
Sección
Artículos de investigación
Licencia
Política de acceso abierto
Los autores que publican en región y sociedad aceptan las siguientes condiciones:
De acuerdo con las leyes de derechos de autor, región y sociedad reconoce y respeta los derechos morales de los autores, así como la titularidad de los derechos de propiedad, los cuales serán transferidos a la revista para difundir los artículos en acceso abierto. región y sociedad no cobra a los autores por enviar y procesar artículos para su publicación.
Todos los textos publicados por región y sociedad —sin excepción— se distribuyen bajo una licencia Creative Commons 4.0 Reconocimiento-NoComercial 4.0 Internacional (CC BY-NC 4.0), que permite a terceros utilizar la publicación siempre que mencionen la autoría de las obras. y la primera publicación en esta revista.
Los autores pueden celebrar acuerdos contractuales independientes y adicionales para la distribución no exclusiva de la versión del artículo publicado en región y sociedad (por ejemplo, incluirlo en un repositorio institucional o publicarlo en un libro) siempre que indique claramente que el trabajo se publicó por primera vez en región y sociedad.
Por todo lo anterior, el (los) autor (es) deberán enviar la Carta de cesión de derechos de propiedad de la primera publicación debidamente cumplimentada y firmada por el (los) autor (es). Esta carta se puede enviar por correo electrónico en formato PDF a: region@colson.edu.mx