Satisfacción turística del visitante fronterizo en Baja California, México
Palabras clave:
satisfacción turística, evaluación de servicios, frontera norte, Baja California, mínimos cuadrados parciales
Resumen
La evaluación de la satisfacción del visitante internacional constituye uno de los campos más prolíficos y efervescentes de la investigación turística, por el carácter abstracto y multidimensional instrumentado. Con el apoyo de datos levantados en los puertos fronterizos del estado de Baja California, México, en este trabajo se examinó la explicación de los atributos de la satisfacción y sus relaciones causales, por medio de la propuesta de un modelo teórico. Para llevar a cabo el análisis se evaluaron los modelos de medidas y el estructural, que permitieron fijar los niveles de significación de las relaciones causales que le dieron forma y fondo al modelo teórico propuesto. Los resultados arrojaron que la relación calidad-precio y el consumo de alimentos y bebidas constituyen las dimensiones que más explicaron la estructuración de la satisfacción en los destinos visitados.
Descargas
Los datos de descargas todavía no están disponibles.
Citas
Albacete-Sáez, Carlos Antonio, María del Mar Fuentes-Fuentes y Francisco Javier Liorens-Montes. 2007. Service quality measurement in rural accommodation. Annals of Tourism Research 34 (1): 45-65.
Alén, María Elisa, Lorenzo Rodríguez y José Antonio Fraiz. 2007. Assessing tourist behavioral intentions through perceived service quality and customer satisfaction. Journal of Business Research 60 (2): 153-160.
Andreassen, Tor Wallin. 1998. Customer loyalty and complex services. International Journal of Service Industry Management 9 (1): 178-194.
Athanassopoulos, Andrea D. 2000. Customer satisfaction cues to support market segmentation and explain swiching behavior. Journal of Bussiness Research (47): 191-207.
BANXICO. Varios años. Proyecto viajeros internacionales en la zona fronteriza. México: BANXICO.
Barclay, Donald, Christopher Higgins y Ronald Thompson. 1995. The partial least squares (PLS) approach to causal modelling: personal computer adoption and use as an illustration. Technology Studies, Special Issue on Research Methodology (2): 285-309.
Bernini, Cristina y Silvia Cagnone. 2012. Analyzing tourist satisfaction at a mature and multi-product destination. Current Issues in Tourism 17 (1): 1-20.
Bigné, José Enrique, María Isabel Sánchez y Javier Sánchez. 2001. Tourism image, evaluation variables and after purchase behavior: inter-relationship. Tourism Management 22 (6): 607-616.
Bigné Alcañiz, Enrique y Luisa Andreu. 2004. Modelo cognitivo-afectivo de la satisfacción en servicios de ocio y turismo. Cuaderno de Economía y Dirección de la Empresa (21): 89-119.
Bonet, Lluis. 2008. Ciudad, cultura y modelos turísticos. Metrópolis 72: 66-69.
Boudon, Raymond, Alban Bouvier y François Chazel. 1997. Cognition et sciences sociales París: PUF.
Bowen, John T. y Shiang-Lih Chen. 2001. The relationship between customer loyalty and customer satisfaction. International Journal of Contemporary Hospitality Management 13 (5): 213-217.
Bowen, David y Jackie Clarke. 2002. Reflections on tourist satisfaction research: past, present and future. Journal of Vacation Marketing 8 (4): 297-308.
Bringas Rábago, Nora L. (coordinadora), Djamel Toudert, Basilio Verduzco Chávez, Yessica Vicencio Murillo, Rafael Ruiz Ortega, Heber Huízar Contreras, Mariana Trejo Sánchez, Mariana Argüello Escobedo, Carlos Vladimir Ruelas González, Jhania Issel Parra García, Francisco Lares Serrano y Gilberto Hernández. 2013. Caracterización de los visitantes internacionales en las ciudades fronterizas de Baja California: Mexicali y Tijuana (invierno 2012-2013). Reporte de investigación del UBTC. Tijuana: COLEF-Secretaría de Turismo del Estado de Baja California.
Bringas Rábago, Nora L. yBasilio Verduzco Chávez . 2008. La construcción de la frontera norte como destino turístico en un contexto de alertas de seguridad. Región y Sociedad XX (42): 3-36.
Bringas Rábago, Nora L., Francisco Lara Valencia yDjamel Toudert . 2008. Exploración de los factores que influyen en la competitividad de la actividad turística en las principales ciudades de la frontera norte. Análisis del Turismo (3): 32-52.
Bringas Rábago, Nora L. y José María Ramos (coordinadores), Basilio Verduzco Chávez , Djamel Toudert . 2008. Plan de acción y visión estratégica para el sector turístico de la frontera norte de México. Reporte de investigación, Tijuana: COLEF-CESTUR.
Bringas Rábago, Nora L. (coordinadora), Djamel Toudert , Basilio Verduzco Chávez , Alberto Hernández, Rodolfo Corona, Elizabeth Méndez y José María Ramos García. 2004. Turismo fronterizo: caracterización y posibilidades de desarrollo. Reporte de investigación Tijuana: COLEF-CESTUR .
Burnette, Jeni y Larry Williams. 2005. Structural equation modeling (SEM): an introduction to basic techniques and advanced issues. En Research in organization: foundations and methods of inquiry editado por Richard A. Swanson y Elwood. F. Holton ni, 143-160, San Francisco: Berret-Koehler Publishers.
Carmines, Edward G. y Richard A. Zeller. 1979. Reliability and validity assessment Beverly Hills, California: Sage.
Casino Martínez, Alejandro. 2001. Medición de la calidad de servicio: una aplicación a los establecimientos de alojamiento turístico. Estudios de Economía Aplicada 18 (2): 83-104.
Castaño Blanco, José Manuel, Alfredo Moreno Sáez, Silvia García Dauder y Antonio Crego Díaz. 2003. Aproximación psicosocial a la motivación turística: variables implicadas en la elección de Madrid como destino. Estudios Turísticos (158): 5-41.
Cazes, George. 1992. Fondements pour une géographie du tourisme et des loisirs París: Bréal Editions.
CESTUR. 2011. Metodología del estudio de perfil y satisfacción del turista. México: Secretaría de Turismo.
Chi Geng-Qing, Cristina y Hailin Qu. 2008. Examining the structural relationships of destination image tourist satisfaction and destination loyalty: an integrated approach. Tourism Management 29 (4): 624-636.
Chin, Wynne W. 1998. The partial least squares approach to structural equation modeling. En Modern methods for business research editado por George A. Marcoulides, 295-336. Mahwah, Nueva Jersey: Lawrence Erlbaum Associates, Publisher.
Chin, Wynne W., Barbara L. Marcolin y Peter R. Newsted. 2003. A partial least squares latent variable modeling approach for measuring interaction effects: results from a Monte Carlo simulation study and an electronic mail emotion/adoption study. Information System Research 14 (2): 189-217.
Chon, Kye-Sung. 1991. Tourism destination image modification process: marketing implications. Tourism Management (12): 68-72.
Chon, Kye-Sung y Michael D. Olsen. 1991. Functional and symbolic congruity approaches to consumer satisfaction/dissatisfaction in tourism. Journal of the International Academy of Hospitality Research (3): 1-25.
Crouch, Geoffrey y J. R. Brent Ritchie. 1999. Tourism, competitiveness, and societal prosperity. Journal of Business Research 44 (3):137-153.
Croutsche, Jean Jaques. 2009. Analyse des données en marketing, en management et en sciences sociales: conceptualisation et applications. París: Editions ESKA.
Davidson, Rob. 2001. Viajes y turismo en Europa. España: Editorial Síntesis.
De Pablos Ramírez, Juan Carlos y Julio César Cabrera Medina. 2003. Turismo cultural y urbano. 6° Congreso de Turismo, Universidad y Empresa, Castellón de La Plana.
Devesa Fernández, María, Marta Laguna García y Andrés Palacios Picos. 2010. Motivación, satisfacción y lealtad en el turismo: el caso de un destino de interior. Revista Electrónica de Motivación y Emoción. Monográfico de la Motivación del Consumidor XIII (35 y 36): 169-190.
Devesa Fernández, María y Andrés Palacios Picos. 2005. Predicciones en el nivel de satisfacción percibida por los turistas a partir de variables motivacionales y de valoración de la visita. ICE Tribuna de Economía (821): 241-255.
Diamontopoulos, Adamantios y Heidi M. Winklhofer. 2001. Index construction with formative indicators: an alternative to scale development. Journal of Marketing Research 38 (20): 269-277.
Díez Medrano, Juan.1992. Métodos de análisis causal. Cuadernos metodológicos (3). Madrid: Centro de Investigaciones Sociológicas.
Elías Pastor, Luis Vicente. 2006. El turismo del vino. Documentos de estudios de ocio, (30). España: Publicaciones de la Universidad de Deusto.
Enright, Michael y James Newton. 2004. Tourism destination competitiveness: a quantitative approach. Tourism Management 25 (6): 777-788.
Etchner, Charlotte y Brent Ritchie. 1993. The Meaning and measurement of destination image. The Journal of Tourism Studies 14 (1): 37-48.
Falk, R. Frank y Nancy B. Miller. 1992. A primer for soft modeling. Akron, Ohio: University of Akron Press.
Fernandes, Valérie. 2012. En quoi l'approchePLS est-elle une méthode a (re)-découvrir pour les chercheurs en management? M@n@gement 15 (1):102-123.
Fornell, Claes. 1982. A second generation of multivariate analysis: an overview. En A second generation of multivariate analysiseditado por Claes Fornell, 1-21. Nueva York: Praeger Publishers.
Fornell, Claes, Michael D. Johnsen, Eugene W. Anderson, Jaesung Cha y Barbara Evritt Bryant. 1996. The American Customer Satisfaction Index: nature, propose and findings. Journal of Marketing (60): 7-18.
Fornell, Claes y David F. Larcker. 1981. Evaluating structural equation models with unobservable variables and measurement error. Journal of Marketing Research 18 (10): 39-50.
González Fernández, Ana María y Águeda Esteban Talaya. 2000. Valores y estilos de vida en el análisis de la demanda turística. España: Feria Internacional de Turismo.
Hasegawa, Hikaru. 2010. Analyzing tourists' satisfaction: a multi-variate ordered probit approach. Tourism Management 31 (1): 86-97.
Higgs Bronwyn, Michael Polonsky y Mary Hollick. 2005. Measuring expectations: forecast vs. ideal expectations. Does it really matter? Journal of Retailing and Consumer Services 12 (1): 49-64.
Hsu Sheng-Hsun, Wun-hwa Chen y Ming-jyh Hsieh. 2006. Robustness testing of PLS, LISREL, EQS and ANN-based SEM for measuring customer satisfaction. Total Quality Management and Business Excellence 17 (3): 355-372.
Hui, Tak Kee, David Wan y Alvin Ho. 2007. Tourists' satisfaction recommendation and revisiting Singapore. Tourism Management 28 (4): 965-975.
Hulland, John.1999. Use of partial least squares (PLS) in strategic management research: review of four recent studies. Strategic Management Journal 20 (2): 195-204.
INEGI. 2011. Censo de población y vivienda 2010. Aguascalientes: INEGI.
Kline, Rex B. 1998. Principles and practice of structural equation modeling. Nueva York: The Guilford Press.
Kotler, Philip y Kevin Lane Keller. 2006. Dirección de marketing. México: Pearson Educación.
Kotler, Philip , John Bowen y James Makens. 1996. Marketing for hospitality and tourism Upper Saddle River. Nueva Jersey: Prentice Hall.
Kozak, Metin. 2001. A critical review of approaches to measure satisfaction with tourist destinations. En Consumer psychology of tourism, hospitality and leisure editado por Josef A. Mazanec, Geoffrey I. Crouch, Ritchie J.R. Brent y Arch G. Woodside, 303-320. Wallingford: CABI Publishing.
Laguna García, Marta y Andrés Palacios Picos. 2009. La calidad percibida como determinante de tipologías de clientes y su relación con la satisfacción: aplicación a los servicios hoteleros. Revista Europea de Dirección y Economía de la Empresa 18 (3):189-212.
López Bonilla, Jesús Manuel y Luis Miguel López Bonilla. 2007. La capacidad de carga psicológica del turista como indicador del turismo sostenible. Boletín Económico del ice (291 1): 25-36.
Meng, Fang, Yodmanee Tepanon y Muzaffer Uysal. 2008. Measuring tourist satisfaction by attribute and motivation: the case of a nature-based resort. Journal of Vacation Marketing 14 (1): 41-56.
Moscardo, Gianna. 2004. Shopping as a destination attraction: an empirical examination of the role of shopping in tourists' destination choice and experience. Journal of Vacation Marketing 10 (4): 294-307.
Nisbett, Richard E. y Timothy DeCamp Wilson. 1977. The halo effect: evidence for unconscious alteration of judgments. Journal of Personality and Social Psychology 35 (40): 250-256.
Nunnally, Jum C., Ira H. Berstein. 1978. Psychometric theory. Nueva York: McGraw-Hill.
Oliver, Richard L. 1997. Satisfaction: a behavioral perspective on the consumer Nueva York: McGraw-Hill.
Oliver, Richard L., y Robert A. Westbrook.1993. Profiles of consumer emotions and satisfaction in ownership and usage. Journal of Consumer Satisfaction, Dissatisfaction and Complaining Behavior (6): 12-27.
Oppermann, Martin. 2000. Tourism destination loyalty. Journal of Travel Research (39): 78-84.
Orte Bermúdez, José María. 1997. Conocimientos sobre el mundo del turismo España: Milenio.
Pearce, Philip L. y Gianna M. Moscardo. 1986. The concept of authenticity in tourist experiences. Journal of Sociology 22 (1): 121-132.
Ramos García, José María. 2012. México-Estados Unidos: problemas y retos en seguridad fronteriza en la administración Obama. Región y Sociedad XXIV (55): 5-40.
Ravenscroft, Neil y Jetske Van Westering. 2001. Wine tourism, culture and the everyday: a theoretical note. Tourism and Hospitality Research 3 (2):149-162.
Richards, Greg. 2002. Tourism attraction systems, exploring cultural behavior. Annals of Tourism Research 29 (4): 1048-1064.
Rodríguez del Bosque, Ignacio y Héctor San Martín. 2008. Tourist satisfaction: a cognitive-affective model. Annals of Tourism Research 35 (2): 551-573.
Salvetat, David, Lebraty Jean-Fabrice y Lancini Agnès. 2012. Coopétition: une source de satisfaction informationnelle dans une démarche d'intelligence économique? Le cas des entreprises européennes de hautes technologies, 17ème Colloque Association Information et Management (AIM). Bordeaux.
Sirakaya, Ercan y Arch G. Woodside. 2005. Building and testing theories of decision making by travelers. Tourism Management 26 (6): 815-832.
Sweeney, Jillian C. y Geoffrey N. Soutar. 2001. Consumer perceived value: the development of a multiple item scale. Journal of Retailing (77): 203-220.
Tenenhaus, Michel. 1999. L'approche PLS. Revue de Statistique Appliquée 47 (2): 5-40.
Tenenhaus, Michel, Vincenzo Esposito Vinzia, Yves-Marie Chatelin y Carlo Lauro. 2005. PLS path modeling. Computational Statistics and Data Analysis 48 (28):159-205.
Truong, Thuy-Huong y David Foster. 2006. Using PLS hülstst to evaluate tourist satisfaction at destinations: the case of Australian holidaymakers in Vietnam. Tourism Management 27(5): 842-855.
Tonge, Joanna y Susan A. Moore. 2007. Importance-satisfaction analysis for marine park hinterlands: a western Australian case study. Tourism Management 28(3): 768-776.
Vázquez Casielles, Rodolfo. 2003. Comercialización del turismo cultural. En Turismo cultural y urbano, dirigido por David Blanquer. Castellón: Tirant Lo Blanch y Fundació Universitat Jaume I - Empresa.
Venkatesh, Viswanath, Morris Michael G., Davis Gordon B. y Davis Fred D. 2003. User Acceptance of information technology: toward a unified view. MIS Quarterly 27(3): 425-478.
Vera Rebollo, José Fernando (coordinador). 2011. Análisis territorial del turismo y planificación de destinos turísticos. Valencia: Tirant Lo Blanch.
Wang, Xia, Feng Zhen, Jinhe Zhang y Xiaogen Wu. 2014. Exploring factors influencing residents' satisfaction with tourism development in poverty-Saricken areas: a case study for five poor villages in China. Asia Pacific Journal of Tourism Research 19 (5): 517-535.
Wickens, Eugenia. 2002. The sacred and the profane. A tourist typology. Annals of Tourism Research 29 (3): 834-851.
Wold, Herman. 1985. Partial least squares. En Encyclopedia of Statistical Sciences, editado por Samuel Kots y Norman Lloyn Johnson, 581-591. Nueva York: Wiley.
Yoon, Yooshik yMuzaffer Uysal. 2005. An examination of the effects of motivation and satisfaction on destination loyalty: a structural model. Tourism Management (26): 45-56.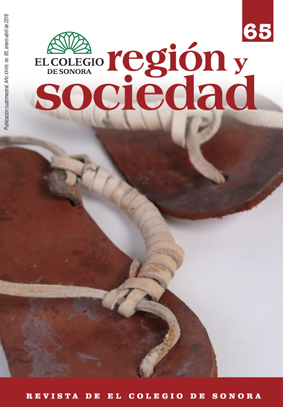 Cómo citar
Bringas Rábago, N. L., & Toudert, D. (2016). Satisfacción turística del visitante fronterizo en Baja California, México. región y sociedad, 28(65). https://doi.org/10.22198/rys.2016.65.a359
Sección
Artículos de investigación
Licencia
Política de acceso abierto
Los autores que publican en región y sociedad aceptan las siguientes condiciones:
De acuerdo con las leyes de derechos de autor, región y sociedad reconoce y respeta los derechos morales de los autores, así como la titularidad de los derechos de propiedad, los cuales serán transferidos a la revista para difundir los artículos en acceso abierto. región y sociedad no cobra a los autores por enviar y procesar artículos para su publicación.
Todos los textos publicados por región y sociedad —sin excepción— se distribuyen bajo una licencia Creative Commons 4.0 Reconocimiento-NoComercial 4.0 Internacional (CC BY-NC 4.0), que permite a terceros utilizar la publicación siempre que mencionen la autoría de las obras. y la primera publicación en esta revista.
Los autores pueden celebrar acuerdos contractuales independientes y adicionales para la distribución no exclusiva de la versión del artículo publicado en región y sociedad (por ejemplo, incluirlo en un repositorio institucional o publicarlo en un libro) siempre que indique claramente que el trabajo se publicó por primera vez en región y sociedad.
Por todo lo anterior, el (los) autor (es) deberán enviar la Carta de cesión de derechos de propiedad de la primera publicación debidamente cumplimentada y firmada por el (los) autor (es). Esta carta se puede enviar por correo electrónico en formato PDF a: region@colson.edu.mx